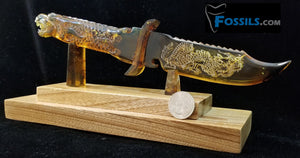 (Available) Dragon Knife Carving in Chiapas Amber (Mexico)
Regular price $12,000.00 Sale
Item is available! For serious inquiries, please contact david@fossils.com for additional information and to arrange wire transfer payment for purchase.
Incredible masterpiece carved from Chiapas Amber by world renowned artist Joaquin Lopez Lopez in San Cristobal de Las Casas, Mexico. He is primarily self taught, although he did apprentice with sculptor Pedro Pica Piedra. He is passionate about carving only Mexican amber and was born in Simojovel, Chiapas, Mexico, not far from the amber mines themselves. He won 1st place in 2018 for Best Sculpture and 3rd place for Best Relief in the annual event Expo Ambar de Chiapas which is held in San Cristobal de Las Casas as the premier amber exhibition in Mexico. 
He starts with a large single piece of amber and lets the creative juices begin to flow as he transforms this 24 million year old fossil into a work of art.